A while back, we produced replica Vigor bottles for Murder of Crows, and they've quickly become one of the most sought-after BioShock Infinite collectibles around. The majority were given away to members of the press, but some of our fans had a chance to score one for their own collection when we placed a very small amount up for sale on our Irrational Games Store.
Since then, we've been asked time and time again by our fans to produce more of the Vigor replica bottles, and now that wish is coming true—you can "light your own way" with the introduction of our limited-edition Devil's Kiss Replica Vigor Bottle.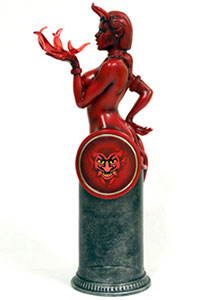 These individually numbered, limited First Edition BioShock Infinite Vigor bottles are pressure-cast resin based on the original in-game model, and stand 9" tall with an average width of 4". Featuring trademark horns and a semi-opaque fireburst placed atop the hand, each Vigor bottle has been meticulously hand-painted for a truly authentic, slightly aged look. Each weighs 1.6 pounds.

Out of the 500 bottles available, 50 have been signed by Irrational Games' Creative Director, Ken Levine, and come with a certificate of authenticity. These special collectibles are going to go like hotcakes, so for more details and purchase information, click here.