Meet Felicia Pearce, our new BioShock Fan of the Month! Want to be the next BioShock Fan of the Month? Click here to find out how!
Location: Hanover, Pennsylvania, USA
Favorite BioShock Moment: My favorite Bioshock moment has to be the first time I saw the Big Daddy. When the little sister starts getting attacked and you are watching from above and the Big Daddy slams! the splicer in the wall with the drill and starts spinning the drill into is body and blood starts flying. EPIC! My body tingled!
Most Prized BioShock Possession: Probably my homemade little sister Adam syringe. The game inspired me so much to create the replica, it took me a lot of time and patience to make it perfect and realistic.
First Game Ever Played: The Legend of Zelda: Link's Awakening on my Gameboy. We didnt have much money at the time, so receiving as a gift was a huge surprise! and truly the moment I fell in love with the Zelda series.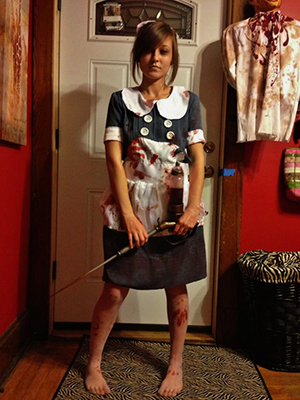 (Don't miss her hand-made Adam syringe!)
If you want to be the next BioShock Fan of the Month, click here to find out how!
Don't forget to follow us on Twitter or like us on Facebook for the latest on all things BioShock Infinite.