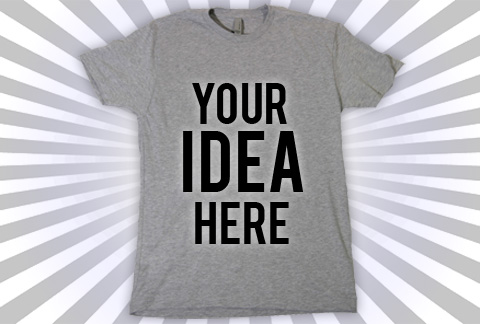 Irrational needs your help! We're getting ready for upcoming events, and since we need a giveaway t-shirt to make fans happy, we would like one of our fans to design our next official t-shirt. Once the submission period ends, Irrational staffers will narrow the field down to the top five—and then we'll let you decide the winning entry.
*At this time submissions are CLOSED! We are currently doing internal judging and will post our top picks in a community poll on Friday July 29 at 1pm ET! – Be sure to come back and vote for your favorite design then!*
Here's how it all works:
Plan:
Read the contest official rules here then think up a great BioShock Infinite design that works well on a grey t-shirt.
Submit:
Submit your design via email by Tuesday July 26 at 11:59pm ET. Remember to include your name, date of birth, and contact info in your e-mail.
Designs must be compressed to .zip or .rar format. The final file must be JPG, BMP, GIF, or PNG format with a final resolution of at least 300 DPI at the size at which the image is to be printed. Final designs cannot exceed 8MB. Submissions that do not meet these requirements will be ignored.
Vote:
On July 29, 2011 at 1:00pm ET the top 5 designs will be posted for fan voting. The polls will close on August 1 at 11:59pm ET so make sure you cast your vote right away! The winning design will be announced shortly after.
Win:
The winning design will be featured on an official Irrational t-shirt that will be handed out at events.
The winning designer will also receive a Murder of Crows Vigor bottle!