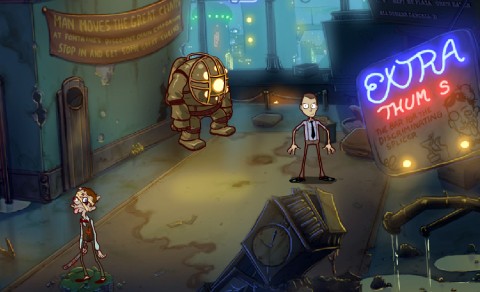 What if BioShock had been developed in the style of an old-school 2D adventure game? Flash developer Norman von Scott decided to explore that alternate reality with the gorgeous hand-animated Prairie Dogging.
It's being hosted by 1UP. The site commissioned the game from Scott, who is known for his "Hsu and Chan" comic that ran in Electronic Gaming Monthly. 1UP tells us this game is mainly a test to see how readers respond to the concept of Flash games based on popular games; if it goes over well, the site will commission more, but future entries probably won't be BioShock themed.
The game is entirely controlled with the arrow keys and mouse. If you played adventure games from studios like LucasArts and Sierra back in the 90s, you'll feel right at home.