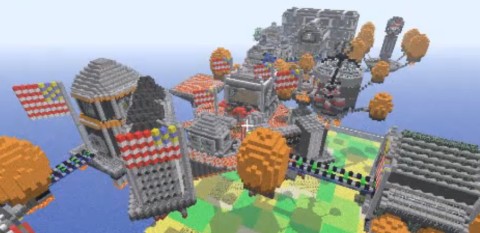 In the increasingly popular sandbox game Minecraft, players can explore vast randomly-generated worlds, create their own tools and weapons, and shape the terrain to construct their own impressive structures and landscapes. One user took it upon himself to create an enormous model of Columbia, BioShock Infinite's city in the sky, complete with flags, Sky-Lines, and hot air balloons:
That impressive set of structures was led by community member DrKamina, who posted about the project in our official forums. He was assisted by more than half a dozen other players who congregate on his Minecraft server, "City of Rapture." And speaking of Rapture, DrKamina and the City of Rapture server folks have also constructed a version of the original BioShock's city under the sea. It starts just where the game does, going from the initial plane crash to the iconic lighthouse, then down into the depths of the city itself:
http://www.youtube.com/watch?v=gMck_0Mg_70
Head over to DrKamina's Irrational Games forum thread to ask him about his further plans or just congratulate him on the impressive work!