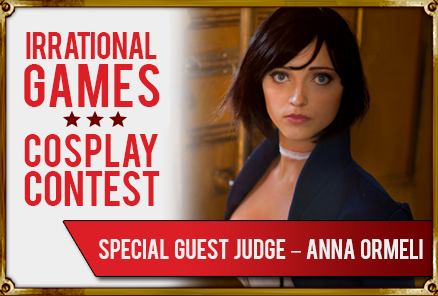 Last week, we launched our Irrational Games Online Cosplay Contest, asking fans around the world to submit their best cosplay from the BioShock universe. We saw the entries flow in, with some absolutely fantastic results. The biggest problem for us, more than picking our individual winner, was to choose the Top 20. To put it into perspective, after our first pass from the hundreds of entries, we had 62 entries slated for our "Top 20", with each of us backing those we felt should make it to the Fan Vote.
A few hours later, we had managed to whittle it down to those we felt earned a Top 20 slot, but those last 10 cut from voting were the most difficult of the entire process. Simultaneously, Anna Ormeli (our guest judge), and our team picked their personal favorite from all submitted. Those two specific entries will not appear in the Top 20 for fan voting, as they have already won the grand prize. They will be revealed, along with the fan vote, on March 24th. Please note that those in the Top 20 appear randomly, so no single person is always at the top or bottom of the list.
On a personal note, please know that if your cosplay did not make the Top 20, or chosen as an individual winner, we are still incredibly humbled that there are so many amazing fans of the BioShock universe. The fact that each fan took the time to not only play and enjoy our games, but choose to spend hours digging into a hobby, a passion, and being a part of our community,  it's been amazing to see these results over the years at every convention. Thank you, to all of our fans, for being a part of our collective community over the years.
With all of that out of the way, it's time to vote! [CLICK HERE TO VOTE]