After System Shock 2, Irrational Games began developing The Lost, a third-person action-horror game inspired by the depictions of Hell in Dante Alighieri's The Divine Comedy. The game had a troubled production history and never made it to completion.
Mauricio Tejerina–one of Irrational's earliest employees, and now an artist on BioShock Infinite–was an environmental artist on The Lost. He dug up his nearly decade-old portfolio of entirely hand-drawn level and character concepts to be scanned in and annotated.
As in Dante's Inferno, the final level of The Lost's Hell was a vast lake of ice, overseen by mythological giants. Mauricio sketched the level's layout by hand.
"The whole thing was basically the Antarctic," he says. "I still remember working on it and seeing it in the game. Everything was all white. The 'Titanic' part of the level had a huge ship frozen halfway under the water. The entire thing was encased in ice."
The giant guardians themselves were concepted by Gareth Hinds, one of Irrational's artists at the time. "As soon as you would get close to the giants, they would come alive and try to grab you," Mauricio recalls. "The dynamic was great–you were walking through this humongous ice cavern, and you'd see this massive thing eight times your size. The visual was impressive, but they got cut from the level. There were technical concerns."
The 3D technology of 2001 wasn't quite up to the task of bringing the design to life. "We were trying to do something amazing, which we always try to do here," Mauricio says, "but we were pushing it too far for that time."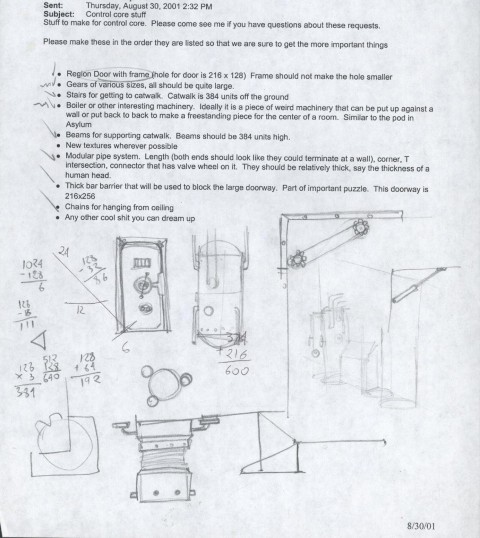 This internal design email shines a light onto actual team interaction during the game's development. The guidelines range from the incredibly specific ("Hole for door is 216 x 128") to the open-ended ("Any other cool shit you can dream up"). Mauricio, whose work on cables and ducts for System Shock 2 earned him the reputation of "the pipe guy," printed the email out and began preliminary studies right on the page. That included some basic measurement calculations.
"I used to have to do math," he now muses.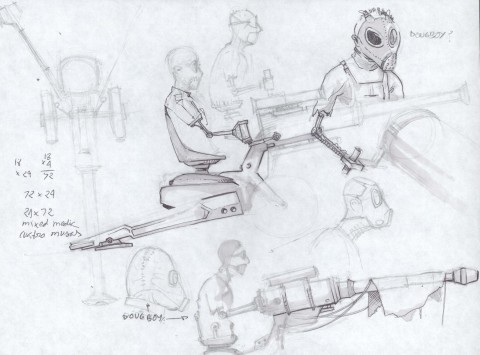 Although his primary role was creating levels and terrain, Mauricio was also given the opportunity to work on some of the game's enemy characters, including the cyborg-turret-guy "Doughboy." The experience was a key moment in his Irrational career.
"When you go to art school, you're drawing and painting all the time," he explains. "When I came here, I was in a junior position, so I didn't have complete freedom to just go invent stuff–there are people with so much more experience. The fact that I was able to go work on these characters was so exciting.
"It's something every kid wants to do, if they've ever wanted to make video games. I get up every day, and my brain starts thinking about what I'm going to be working on.
"Well, not every day is like that," he says.
This page of concepts for a money-related pickup serves as a visual explanation of the design and refinement process. Although two elements–the skull and gem motifs–persisted in all incarnations of the object, they became increasingly integrated as they were reduced down to their most iconic forms.
"You can see how I used to think," Mauricio says. After a moment, he adds, "Maybe I still think the same way."