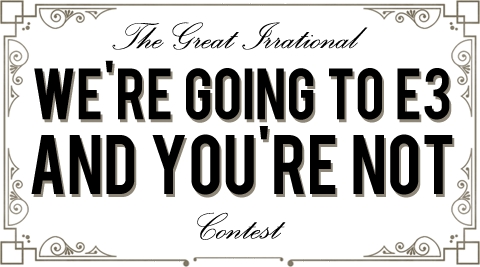 Update: It's over! Thanks to everyone who entered! We'll be contacting the winner to set up E3 travel soon.
E3 is a big deal. Journalists and retail buyers from all over the world fly into Los Angeles to see the latest games before they hit store shelves. Everybody who's anybody in this industry will be there.
And of course, we're going to be there.  And we're showing the next BioShock Infinite gameplay demo. And you know what? It's going to be awesome.
And you? Sorry, nope. You don't get to go. Industry ONLY!
Okay, we're just messing with you. You wanna go to E3? Irrational might be able to help you out.
Irrational Games will be showing the next slice of BioShock Infinite gameplay at our booth at E3, and we want you there to witness it! You and a friend could win a trip to Los Angeles to come meet us at our booth and be the first members of the public to see the demo.
If you win, we'll fly you out and put you up in a hotel overnight. After seeing the demo, we'll turn you loose to enjoy the show at your own pace.  And who knows? It's LA. Maybe you'll even find your way into starring in your very own sitcom.  Maybe you'll become the kind of pop-idol singer-songwriter who drives the girls (or guys!) crazy. Or perhaps you'll just burn out, bitter at the fading of your dreams.
But we're getting ahead of ourselves.
Just fill out the information below to enter. We promise we won't share it with anyone else.