BioShock fans: Are you going to New York Comic Con 2011? Would you care to meet the folks behind BioShock Infinite? If so, we've got a treat for you!
On Saturday, October 15th, BioShock creator Ken Levine and BioShock Infinite actors Troy Baker (Booker DeWitt) and Courtnee Draper (Elizabeth) will be at New York Comic Con for a fan signing in the North Pavilion at Autographing Table 7 from 1:30pm to 2:30 pm. Feel free to bring your Irrational Games swag to get signed, but if you don't have any items, fret not – we've got you covered! Everyone who lines up for the signing will receive a free BioShock Infinite lithograph for the crew to sign. Better yet, these lithographs will be your ticket when we raffle off 10 BioShock toy bundles from NECA collectables to those who come to the signing.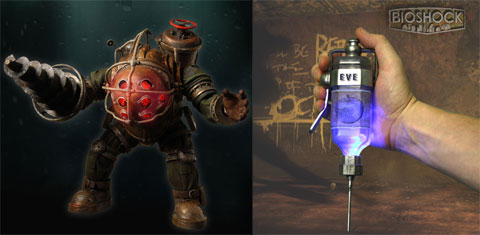 NECA BioShock Toy Bundle, including an Ultra Deluxe Big Daddy Bouncer with LED action figure, and an EVE Hypo Syringe.
If you're not able to attend New York Comic Con but would still like to see the Irrational Games crew, we've got some good news: We'll be holding a Meet and Greet event in New York after the show where you can stop by and relax with the Irrational gang. On Saturday, October 15, from 5pm to 7pm, IG.Sarah and IG.Eduardo will be heading to McGarry's Pub (ages 21 and over) to meet with anyone who wants to stop by and say hello. To sweeten the deal, we'll be bringing five of our limited Murder of Crows bottles from BioShock Infinite to raffle off during the event, and perhaps a few more surprises. All you have to do is come on down.
Irrational Games NYCC Meet and Greet
When: October 15, 2011 5pm – 7pm
Where: McGarry's Pub
417 9th Avenue
Btwn 33rd & 34th St.
New York, NY 10001
Be sure to stop by and we'll see you in New York!