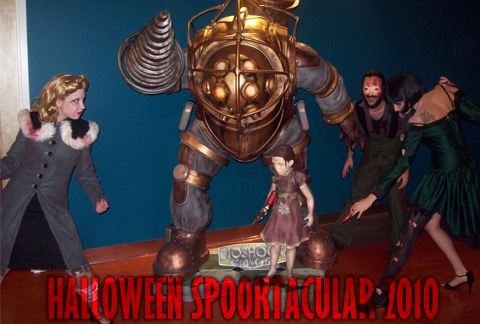 Splicers invaded the Irrational Games offices this week, accompanied by a somewhat more motley assortment of characters including a knight Templar, a few pirates, and Dr. McNinja. Oh, and The Giving Tree.
That's all thanks to last night's Fall Spooktacular event here at Irrational. There was food, pumpkin carving, scary movies, and of course the costume contest, which saw a three-way tie for first place awarded to our disturbingly convincing Splicers: Sarah Rosa, Kayla Belmore, and Phil Frechette. Don Norbury and Josh Davis tied as runners-up with their elaborate Joust knight getups.
Kayla and Sarah, seen above, were dressed as the BioShock Splicers known internally as "Lady Smith" and "Baby Jane." Sarah, whose costume-making prowess is well documented, sewed both of their costumes herself. Kayla was responsible for the gore makeup. The pair then distressed the clothing using tea, fake blood, paint, sandpaper, razors, and–of course–fire.
In addition to contributing massively to organizing the Spooktacular, Phil came dressed as "Waders." He put his own costume together, including the fleshy mask grafted to his face. Then he severely startled everyone who ran into him for the first time yesterday.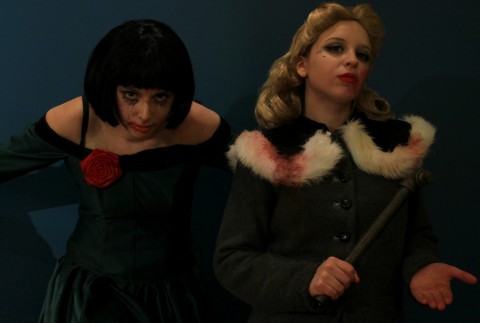 This closeup shows some of the impressive costume and makeup effects Sarah and Kayla achieved.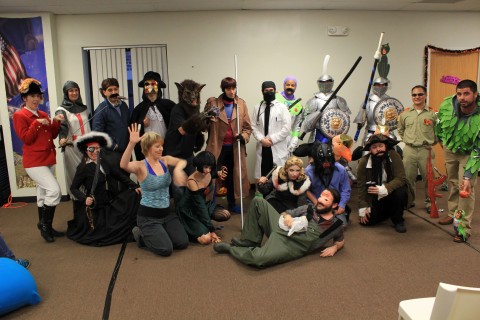 Around 20 Irrational staffers made the effort to put Halloween costumes together for this year's Spooktacular, valiantly spending a near-full work day all dressed up before the event itself began.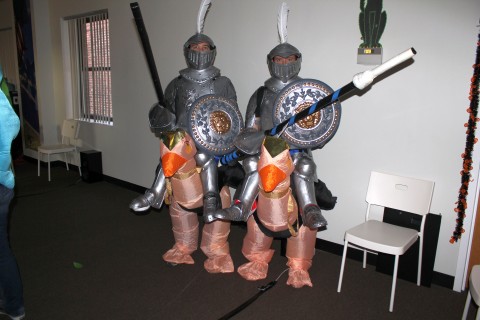 Remember Joust? Don and Josh do.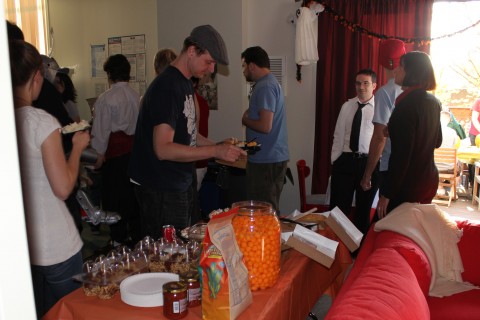 The rest of us weren't industrious enough (or were too self-conscious) too dress up, as you can see, but there were was plenty of food and fun nonetheless.
Head over to our Halloween 2010 Flickr gallery for more shots of the event and its many costumed attendees.
And finally, to cap off our Spooktacular and get you in the proper state of mind for Halloween, please bear witness to this nightmarish image of Phil "Waders" Frechette. It will haunt your dreams: