Update: It's over! We'll be contacting the winner and creating new in-game materials reflecting his or her name. Stay tuned!

You know who's lucky? Irrational Games staffers. Not only do they get to work on games like BioShock, Freedom Force and System Shock 2, they get to have their names written into the fiction. Jerks.
You might even recall establishments like Sinclair Spirits and Robertson's Tobaccoria in BioShock. Those were named after staffers Scott Sinclair and Shawn Robertson.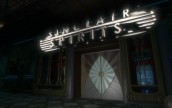 Here's the thing about BioShock Infinite: Now it's your turn.
With our new game we also want to pay tribute to our community. That's why we're giving one of you the chance to become immortalized within the world of Columbia! You could end up as the namesake of a building, a character, a business–whatever our artists come up with. It's the ultimate bragging rights.
The submission period ended April 13 at 11:59PM Eastern Time. The winner will be announced in the coming weeks.