We work with a handful of companies that create designs, and produce the majority of the items found in the Irrational Games Store. One particular company, Sanshee, has recently designed three new BioShock Infinite T-shirts, debuting over the coming weeks. I reached out to owner Arty Gibree (seen modeling the upcoming Handyman shirt below) to learn more about the humble beginnings of his company, what inspired their first BioShock design, and their future.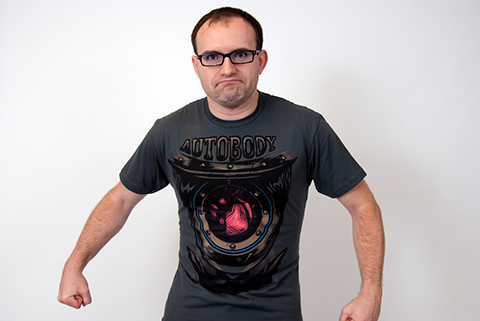 (Arty and his Handyman pose – Shirt coming soon)
IG.J: Can you tell us about how your working relationship with Irrational Games came to be, and what inspired the first piece?
Arty: I bought my first Xbox after I graduated college because I was addicted to Rock Band at the time. Only later did it occur to me that my Rock Band 360 could play other games too, so on a recommendation, I bought BioShock.
The following three days I spent huddled in front of my TV. Immediately after I finished it, I rushed my Xbox over to my friend (and now business partner), Steve's house, and in an excited flurry, convinced him to try it too. Two days later he finished it, and we both spent many hours furiously discussing the experience and the amount of manly tears that were collectively shed.
Anyways, flash-forward to the beginning of Sanshee (I don't even know if Sanshee had a name back then): We had a small handful of shirt designs at the time, but I really wanted to make something for BioShock, something that matched my feelings for the game. I wanted something that felt grand that just didn't exist on a T-shirt. I locked myself away in the basement and spent the next two weeks making my first "Welcome to Rapture" design. I'm not a very good artist so I constantly had to start over, and halfway through the process my basement flooded, which was kind of appropriate, but in the end I made something I was very proud of.
Eventually the shirt made its way to Ken Levine himself, who decided to wear it to E3 that year. I reacted to this discovery with quiet and dignified pride… or maybe it was wild and uncontrollable glee. My memory is kind of fuzzy – I think I may have blacked out at some point.
Anyways, there are a few stories about the Irrational team and Ken that I could share, but I don't want to ramble any further. What it boils down to is that Irrational, as a whole, gives a great deal of personal attention to the fans, and I think that's awesome.
IG.J: Once you've settled on a specific item, what's your design process like?
Arty: Once a design is decided, the process is very much a trial by fire. Everyone in the company is very critical, and we try to make things as perfect as possible. We're usually all fans, so we want to do right by the things we love.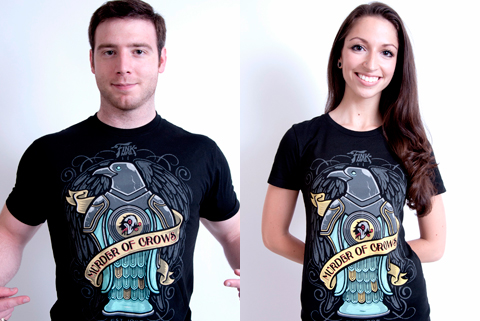 (Coming soon – Murder of Crows Tattoo T-shirt – Men's and Women's)
IG.J: What is your favorite BioShock-inspired piece your team has created so far?
Arty: The Welcome to Rapture shirt has a ton of history for me, personally. It is truly a piece of fan-art and has grown along with Sanshee. It's on its second version right now and I'm debating doing another version in the future. But, on technical coolness, I really like the Lutece coin. I mean, you can FLIP it!
*Editor's Note: The Lutece coin is currently a convention exclusive, but we're looking to carry it in our store in the future.
IG.J: Outside of BioShock Infinite, where do you and your design team get your inspiration from?
Arty: I get a lot of my inspiration from conventions. It's hard to be around that many fans and to not want to make new things. I also do a lot of aimless wandering physically and on the internet. Laura, one of our staff artists, spends a huge amount of time poring through art resources from various time periods. There's this box she made for an upcoming BioShock Infinite product that has a huge amount of meticulous thought behind it.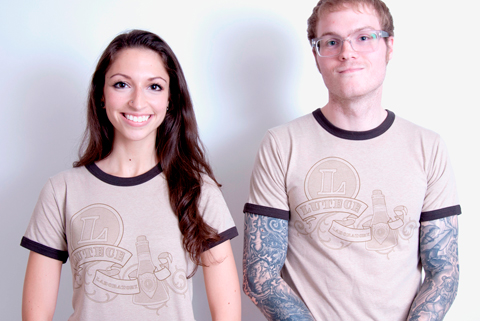 (Lutece Labs T-shirt – Available now in Men's and Women's)
IG.J: Is there a specific item from BioShock Infinite that you'd like to create in the future?
Arty: Can I talk about that here? Won't it be a bit of a spoiler?
—-
Huge thanks to Arty from Sanshee for taking the time to answer my questions. Make sure to head over to our store to look at each of the new items available.