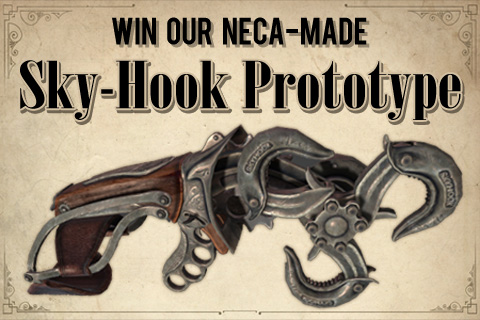 Update: The contest is over! Thanks to everyone for participating, and congratulations to our randomly-selected winner @equustel. She'll be walking away (Sky-Lining away?) with the NECA-made Sky-Hook prototype.

We're collaborating with NECA to create high-quality, life-size models of BioShock Infinite's Sky-Hooks, the devices used by citizens of Columbia to travel along the city's Sky-Lines–and we're giving one away before they go into production. There will only ever be a few of these early resin-cast prototypes. We're keeping one.
For your chance to have your very own, just follow the @IrrationalGames Twitter account and retweet the contest announcement. You too could move as fast as the devil through the heavens! (Please do not attempt.)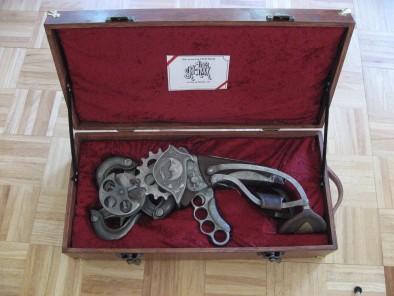 The Sky-Hook's design was a collaboration between Irrational's Robb Waters, Mauricio Tejerina, and Adam Bolton. It was built by NECA, which will also produce the official line of BioShock Infinite models. The Sky-Hook will be shipped in a custom-built box designed by Robb and inspired by the cases used to hold dueling pistols. This unique case won't ship with the eventual production Sky-Hooks–it's prototype-exclusive.