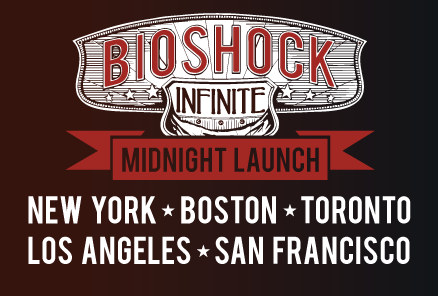 On Monday, March 25th, GameStop stores all over the U.S. and EB Games locations in Canada will be holding Midnight Openings for the launch of BioShock Infinite. To make this launch one to remember, we're sending developers from Irrational Games to five key locations to hang out with our fans, sign copies of the game, and even hand out some free stuff to attendees.* We're also planning on bringing a few special goodies for our fans who show up in cosplay at the locations below.*
For those of you in the Los Angeles area, we have an even bigger surprise, since Nico Vega will be performing live at 9PM PT, just before the store opens on Universal City Walk. If you've watched our recent trailers and TV commercial, you've already heard Nico Vega's song "Beast", but this is your chance to see them play live.
Here's the list of our five special locations in North America, but take note that over 3,000 individual GameStop locations will be opening at midnight, so call your store in advance and find out if you can pick up your game early.
[Sign up for the official Facebook Event here]
Boston: 40 Winter Street
New York City: 1282 Broadway
San Francisco: 830 Market Street
Los Angeles: 1000 Universal Studios Blvd. Suite 101
Toronto: 267 Yonge Street
We can't wait to meet our fans at these five locations, and we look forward to sharing stories, taking pictures, and ensuring each of you can walk away into the night happy with your shiny new copy of BioShock Infinite.
*While supplies last